Dave Schnitter Website
Jazz Master Saxophonist Player and Composser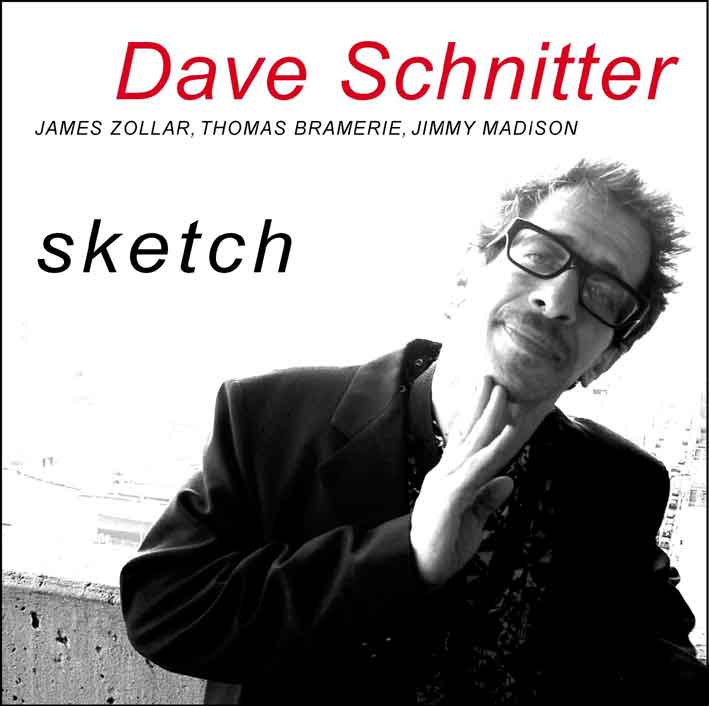 Dave Schnitter Biography
Jazz Master, Tenor Sax, Composer, Arranger, Educator
He estudied clarinet as a chil but changed to tenor saxophone at age of 15. He began his professional career playing at weddings and as member of various rock bands. In 1972 Schnitter formed his own group in New York. After playing with Ted Dunbar (1973) he began his most important association, with Art Blakey (1974-79). He worked with Freddie Hubbard from 1979, recording with him in 1980 and 1981; he also played with Frank Foster, Charles Earland, Groove Holmes, and Johnny Lyttle. Schnitter's style is based firmly on hard bop; his sound has been compared in particular with Dexter Gordon's, though the influences of Sonny Rollins and John Coltrane are also detectable.
Selected Recordings
As leader (all recorded for Muse): Invitation (1976), Goliath (1977), Thundering (1978), Glowing (1979)
As sideman: with Sonny Stitt: In Walked Sonny (1975), with Art Blakey Jazz Messengers: Backgammon (1976), In my Prime (1977), In this Korner (1978)
Bibliography
L. Feather and I. Gitler: The Encyclopedia of Jazz in the Seventies (New York, 1976)
C. Delaunay: "Nice Plus Dave Schnitter", Jazz Hot Magazine, nº 330 (1976)
A. Lange: Review of Thundering, Down Beat (1980)
J. Howard; "A Message from Today", Jazz Forum International
Paul Rinzler, The New Grove Dictionary of Jazz (c) Macmillan Reference Ltd 1988

2001 - 2002 Performances as a leader w/ John Hicks, Al Foster in New York and Europe.
1995 - Present Faculty of New School University Jazz Program (New York)
1991 - Present Resided in Spain, teaching in seminars and performing with notable musicians such as Johnny Griffin, Slide Hampton, Gary Bartz, Sal Nistico, Tete Montoliu and Bobby Hutcherson.
1975 - 1980 Performed and recorded with Art Blakey and The Jazz Messengers touring all the world, recorded four albums as a leader on Muse Records, and recorded more than thirty records as a sideman with jazz masters such as Art Blakey, Red Rodney, Richard "Groove" Holmes, Charles Earland, Johnny Lytle, etc.
1980 - 1982 Performed and recorded with Freddie Hubbard touring all the world. Also performing in major European and USA's Jazz Festivals and clubs as a leader.
1970 - 1974 Substitute teacher in public schools, private students; performing aroun New York City area.
| | | |
| --- | --- | --- |
| A Jazzy World Christmas | Ximo Tebar | Ximo Tebar |
| Anis del Gnomo | Ximo Tebar | Ximo Tebar |
| Embrujado | Ximo Tebar | Ximo Tebar |
| Eclipse | Ximo Tebar | Ximo Tebar |
| Homenajke Erik Satie | Ximo Tebar | Ximo Tebar |
| Goes Blue | Ximo Tebar | Ximo Tebar |
| Te Kiero Con K | Ximo Tebar | Ximo Tebar |
| Steps | Ximo Tebar | Ximo Tebar |
| World Music from valencia | Varios | Varios |
| Six Hours later | Roque Martinez | Roque Martinez |
| My Ideal | Ricardo Belda | Ricardo Belda |
| El principio | Ricardo Belda | Ricardo Belda |
| Luis Coloma | luis Coloma | luis Coloma |
| Páginas Preciosas | Ester Andújar | Ester Andújar |
| Cole Porter | Ester Andújar | Ester Andújar |
| Tristeza de amar | Ester Andújar | Ester Andújar |
| Wait Walking | Ernie Orts | Ernie Orts |
| Aluap | Ernie Orts | Ernie Orts |
| Nu Roots | David Pastor | David Pastor |
| Stringworks | David Pastor | David Pastor |
| En directe desde el Polisonic | David Pastor | David Pastor |
| Introducing | David Pastor | David Pastor |
| Camins Dispars | David Pastor | David Pastor |
| Sketch | Dave Schniter | Dave Schniter |
| Liles | Amadeo Adell | Amadeo Adell |
| Innsbruck | Amadeo Adell | Amadeo Adell |
| The Champs | Ximo Tebar | Ximo Tebar |